December 04, 2022
Herald College AAA Scholarship Award Ceremony
Herald College AAA Scholarship Award Ceremony
The Academics, Attendance, and Attitude (AAA) Scholarship was introduced to deliver students the tremendous motivation of having 100% of their tuition costs waived for the calendar year as a reward for their exceptional performance at the college. It has been designed to encourage both academic excellence and active participation, which will undoubtedly lead to the students' entire development.
In order to honor students who stood out during the academic year in terms of performance, discipline, and involvement in the institution, Herald College Kathmandu held the 'AAA Scholarship Award Ceremony 2022.'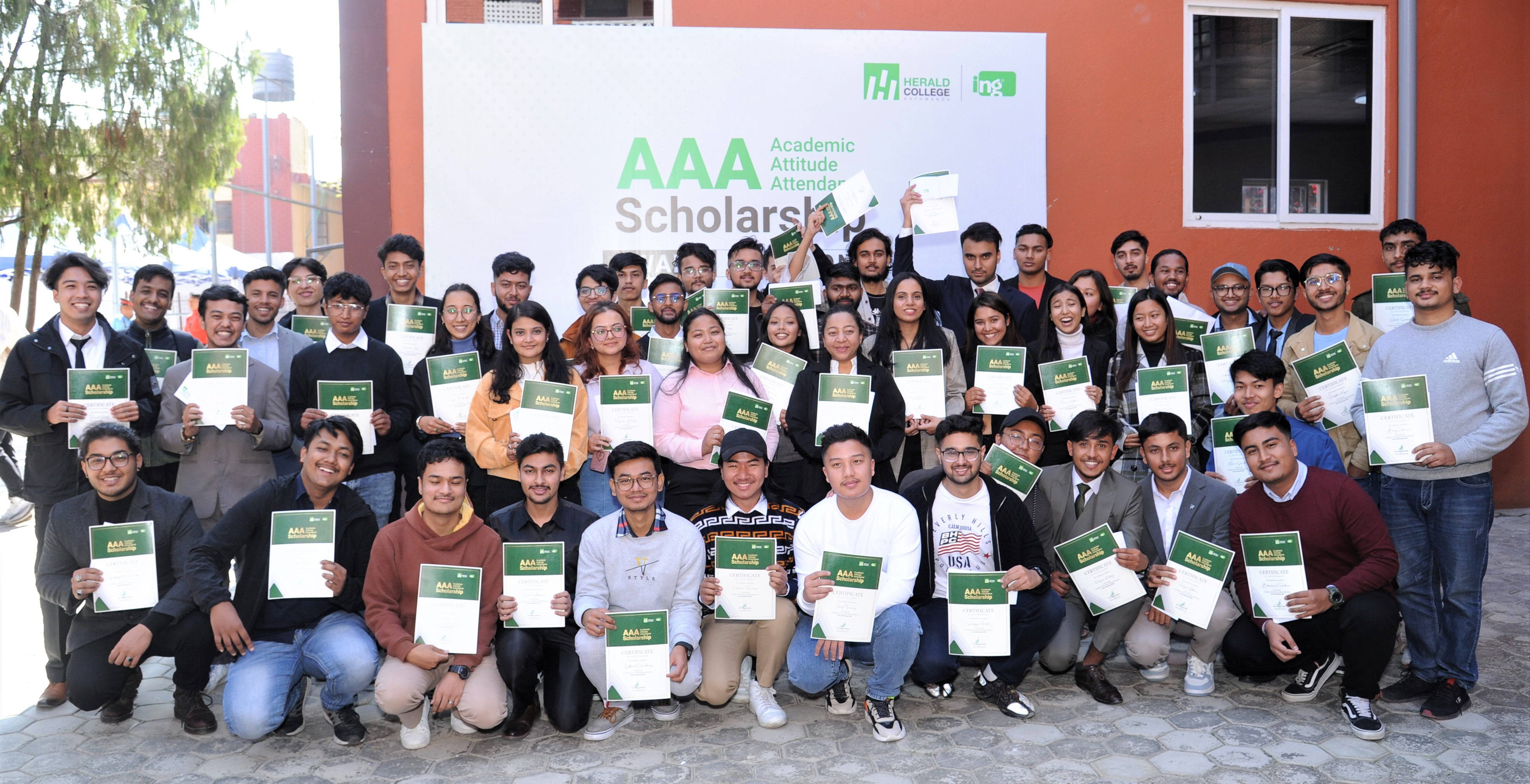 The first round of the scholarship program attracted 426 applicants, all of whom were eager for the award. After a laborious screening process by our academic members, 49 students were selected as meritorious recipients of the AAA Scholarship 2022, worth an overall sum of more than NRs 65 lakhs.
The celebration was planned to honor the outstanding award winners. They were congratulated by our CEO, Mr. Prakash Shrestha, in front of their delighted family members and the whole Herald family as they received their awards.
List of AAA Scholarship 2022 Recipients:
Aaisha Ranjit

Aashish Tuladhar

Abhiraj Jaiswal

Anusha Maharjan

Biraj Pokharel

Biroshan Kumar Mahato

Bishal Dali

Bishwas Lal Pradhan

Devendra Yogi

Dhiraj Kumar Sah Kanu

Dipesh Sapkota

Gaurav Thapaliya

Hridaya Bhattarai

Kalyan Khatry

Kushal Sarkar

Lujana Bajracharya

Niraj Tamang

Nischal Giri

Nischay Shakya

Nishant Shrestha

Ojush Pathak

Ozone Bhattarai

Pragya Budhathoki

Prajeet Shrestha

Prajwal Adhikari

Pranil Napit

Prasiddha Regmi

Prerana Baniya

Priyanka Bhatta

Punam Katuwal

Raymon Bikram Basnyat

Rikesh Mahat

Rohan Shrestha

Roman Karki

Sabin Adhikari

Samipa Shrestha

Sarbagya Raj Khadka

Saugat Karki

Saurav Adhikari

Shankalpa Pokharel

Siddhant Chaudhary

Sugam Karki

Sujan Neupane

Suyogya Gautam

Sweekriti Dhungana

Tisha Khoju Shrestha

Urika Basnet

Yugant Basnet

Zokchen Tamang
Congratulations to all of the recipients of the AAA Scholarship 2022 for their unwavering commitment to their studies and involvement and presence in college. The recipients of AAA Scholarship 2022 were students who enrolled in BSc (Hons) Computer Science and BSc (Hons) International Business Management undergraduate programs.
Get a glimpse of AAA scholarship at Herald College Kathmandu.