May 22, 2023
International MBA Events: April Highlights
April 05, 2023: Wednesday
Event Title: BREAKING BORDERS: Revolutionizing SMEs with Innovative Market Research
Guest Speaker: Mr Kamal Dahal (CEO of Monster Meal) and Mr Sanjan Piya (Co-founder and COO of Veda)
A panel discussion on 'International Market Research' and 'The Nature of Small and Medium Scale Enterprise International Marketing Strategies' took place where Mr Kamal Dahal and Mr Sanjan Piya presented their wealth of experiences and diverse perspectives to the audience. The attendees were provided with a unique opportunity to actively participate, and ask questions.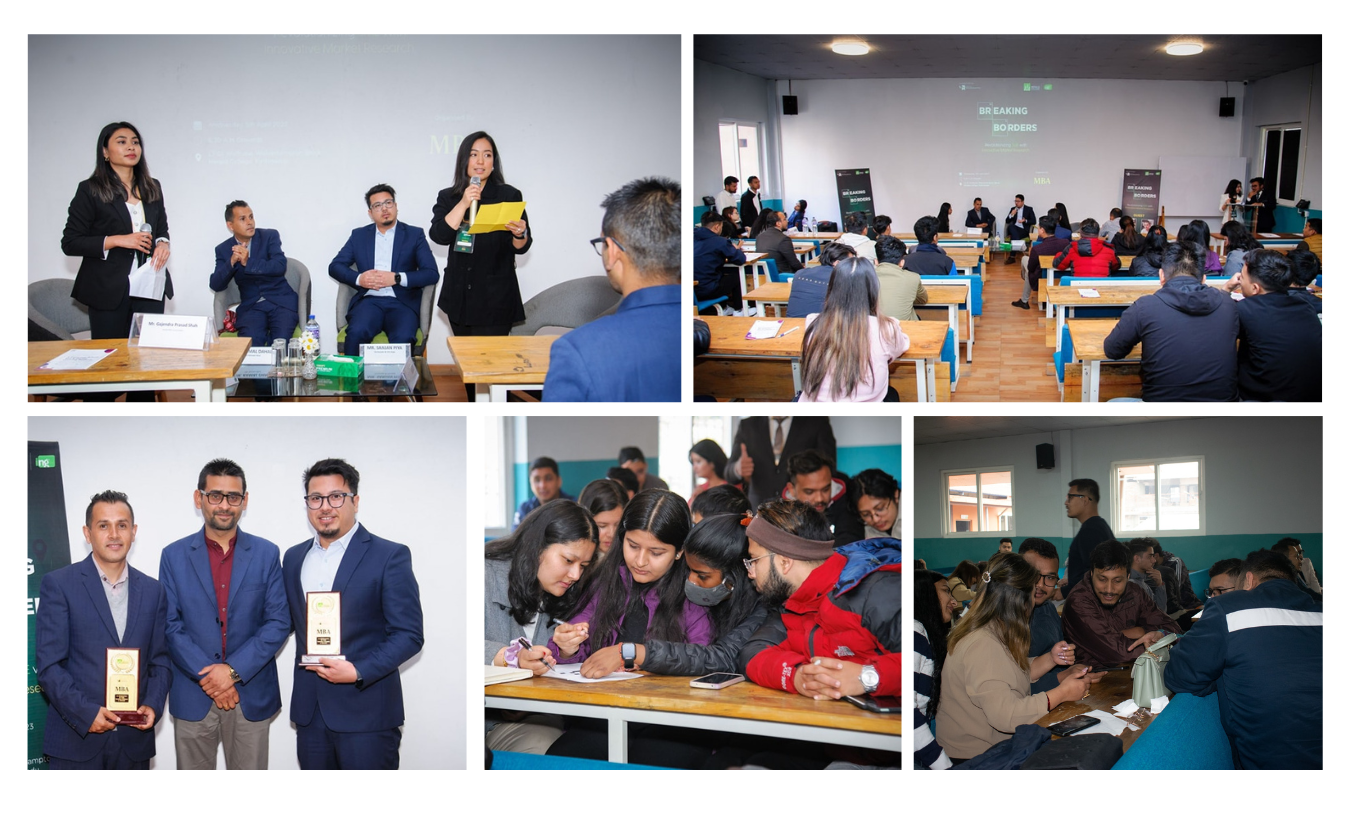 April 12, 2023: Wednesday
Event Title: BEYOND BORDERS: Finding Success with Alternative Market Entry
Guest Speaker: Mr Prakash Dhakal (CEO and founder of Okhar)
Mr Prakash shared his valuable insights and expertise on the subject of succeeding in alternative market entry strategies. He elaborated on the various challenges he had encountered in the past and the effective solutions he had employed to overcome them. With his knowledge, he described the key principles that guided his successful ventures.




April 13, 2023: Thursday
Event Title: DECODING GLOBAL HR
Guest Speaker: Mr Piyush Paudyal (Group HR Head at F1 Soft International) and Mr Aayushman Tamrakar (Organizational Development Specialist at Ncell)
The event aimed to provide insights into the challenges and opportunities of global HR management. The speakers shared their experience, knowledge and challenges of the latest trends and best practices in Global HR. They presented how employee development can be done to increase employee retention in this business world.

April 19, 2023: Wednesday
Event Title: THE COSMOPOLITAN TALK
Guest Speaker: Mr Ahmed Dulla (Founder of The Factory Team)
Mr Ahmed Dulla shared his experiences on how he chased his dreams, initiated his own business, got betrayal and became one of the most iconic Nepali fashion brands. The session was full of inspiring thoughts and a push for students to gear up and start their own businesses.

April 21, 2023: Friday
Event Title: SUSTAINABILITY IN INTERNATIONAL MARKET: PRODUCT AND SERVICE MANAGEMENT
Guest Speaker: Mr Shaswat Rijal (Country Sales and Marketing Head at Enduro Motors Pvt. Ltd)
Mr Shaswat Rijal engaged the attendees with an in-depth discussion on the ever-evolving realm of electric vehicle advancements, benefits, and challenges associated with this innovative technology. Furthermore, he emphasised the importance of sustainability in today's global market and clarified the strategies adopted by international companies to navigate the Nepali market.

April 28, 2023: Friday
Event Title: BUSINESS COMMUNICATION: SQUAD STRATEGY
This was an activity-based event including games that will build your skills. Participants were provided with an opportunity to immerse themselves in a hands-on learning experience. Students had the chance to participate in a wide range of interactive games specifically designed to foster skill development.