January 09, 2023
Why study British degree in Nepal ? Top 5 reasons to study UK degree.
Nepal has a prevalent traditional education system and it supports the old curriculum. The public schools prefer chalkboard teaching and the private schools prefer bookish knowledge. In any way possible, there is a spry of the old curriculum. Nepal hasn't brought the updated curriculum in the formality. Students here in Nepal study for the sake of a degree rather than knowledge. There is a lack of practical learning, which could be a trait of a traditional learning class. Nepal's education system promotes preparing for the exams with old questions, notes, and guess papers rather than research, experiential learning, and assignment.
The education system of Nepal has delays in publishing the board exam result, changes in exam routines, and changes in certain rules. Due to these reasons, many students prefer to study and graduate abroad. As a result, 2.16% of the total student population of the country is currently studying abroad. Additionally, nowadays UK Degree in Nepal is gaining popularity among students. With updated course, world class teaching UK university degree, state of the art facilities and global recognition British education is captivating undergraduate and graduate students.
Why study British degree in Nepal?
The UK degree is known to be one of the reputed degrees around the world. Few colleges affiliated with British universities provide British degree in Nepal or even direct partnerships with UK universities. British degree provides an updated and quality curriculum, disciplined rules, and regulations, formal and timely publication of results and notices. British degree primarily focuses on practical learning, and a grading system based on the knowledge and skill of the student. The ability of problem-solving, logical thinking, and analytical skills are provided by this degree. Students learn through national as well as global perspectives which makes students more knowledgeable. UK University degree approach is to Level up and a key means by which we can rise to the challenge of creating a more inclusive and cohesive society. Here is a list to identify why study British degree in Nepal.
Quality education and curriculum
UK education system allows students to develop their skills, knowledge, and critical thinking. According to Pearson, British education is the most popular curriculum in the world and most popular curriculum offered in Asia. The quality of education and updated curriculum is set to a benchmark. The QAA (Quality Assuring and Accreditation) regularly inspects universities in partnership with UK degrees to assess the standards of teaching, learning, and research to ensure that set benchmarks are met. A person holding a British degree in Nepal will have the least chance of getting rejected anywhere. Because this degree provides a status of industry-ready expertise and comprehension and priority.
Opportunity to experience the UK education system
The UK and its universities provide undeniable recognition of the degree and educational background. The education systems of Nepal and the UK are completely different. While one may compete to follow traditional learning methodology, the UK provides immensely advanced and industry-based education. There is wide variation in the field of study, providing focus learning and self-learning. It allows a student to outgrow into an advance education system. The colleges that are in direct partnership with the UK universities in Nepal, provide a chance for Nepali students to experience the UK education system within the home country Nepal.
World recognized degree
Everywhere you go, a recognized degree and a potential skill are required. UK degrees are well-reputed and renowned everywhere. A degree from UK University will make a CV more powerful as their standards are highly regarded, with an enhance on many academic topics and active skills based learning.
Higher education and qualifications in the UK have a remarkable international reputation, and the UK degree is globally accepted by top employers, and government bodies, creating a plethora of opportunities to work for leading companies.
Can apply for credit transfer to the UK
If a student studying at a UK degree college in Nepal is willing to study in the UK during the middle of the academic years, he/she can transfer the credit directly without any obstacles and continue the applied course. They shall apply for a credit transfer. Another benefit is that they will have a higher chance of getting a student visa easily.
Students will also be able to study and work easily in the UK.
Financial support
Studying while working in the UK may be a difficult task. On average, international student fees can be between £ 11,400 to £67,892 considering location and accommodation. Experiencing a UK education while staying in Nepal is considered to be cheaper when compared to studying in the UK. The same quality of education and system is provided at an affordable cost.
In partnership with UK universities, colleges also provide scholarships and funding opportunities to their students. Few of them also provides internship opportunities.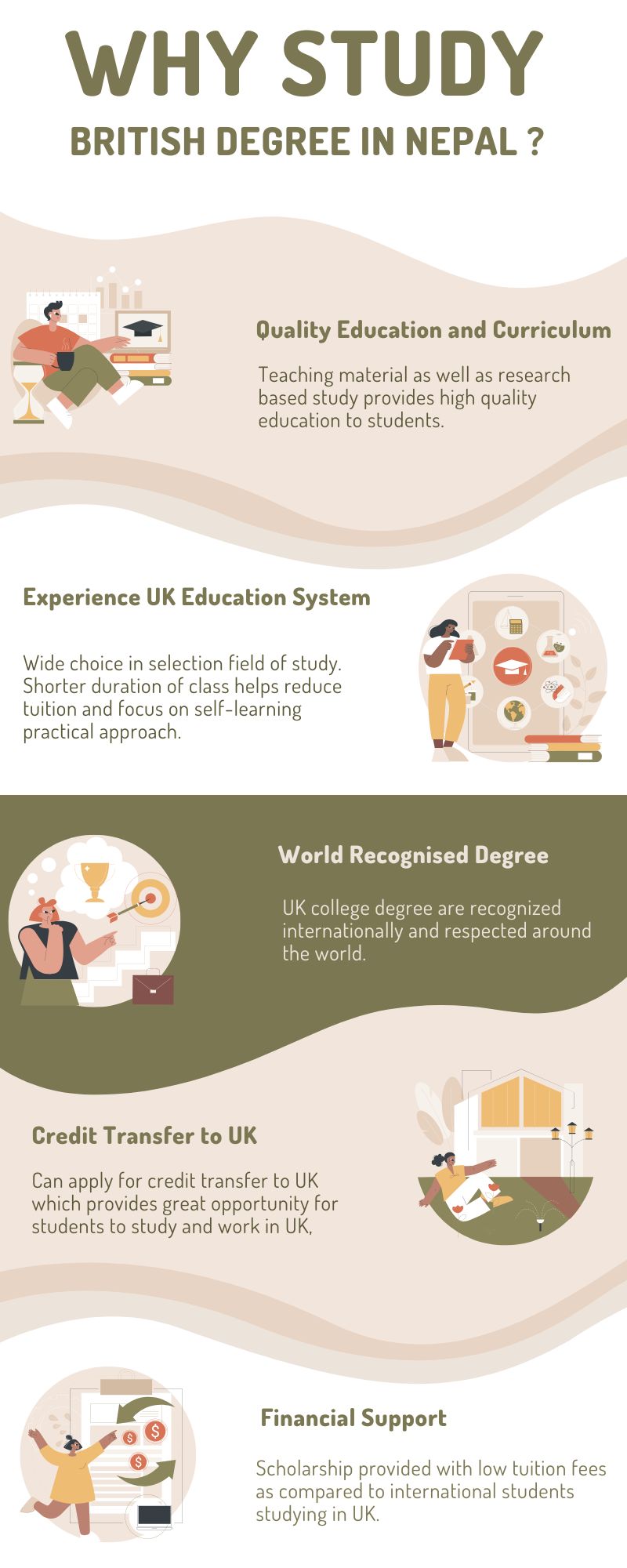 Studying at one of the prestigious colleges and acquiring a direct partnership with UK universities is always a plus point when it comes to recognition at any resume, company, and background. Also, getting to experience the advanced education system and the globally renowned degree within the home country is the cherry on top of the pie. UK degree in Nepal has become the students' first choice today while seeking foreign degree in Nepal. It's not only beneficial for one's personal development but it is also a reasonable financial accordance while receiving all the benefits equal to that of the Universities that are in the UK.
Herald College Kathmandu in direct partnership with The University of Wolverhampton in the UK offers comprehensive undergraduate and post-graduate programs with the BSc (Hons) in Computer Science, BSc (Hons) in International Business Management, and International MBA courses in Nepal. It injects enormous credibility and brings along with it a hoard of opportunities for students on a global scale. The programs have been intricately designed to equip and enhance your capabilities as a professional, carried out by a competent faculty.
The University of Wolverhampton is a public university in England with four campuses in the West Midlands, Shropshire, and Staffordshire. The university's origins can be traced back to the Wolverhampton Tradesmen's and Mechanics' Institute, which was founded in 1827, and the 19th-century expansion of the Wolverhampton Free Library (1870), which developed technical, scientific, commercial, and general classes.