January 19, 2023
Everything about BIT Course in Nepal by Herald College
Why BIT Course in Nepal?
Technology has made a more significant impact on society. Everything runs through technology. Many industries are adopting the IT ecosystem into their organization. Because without technology, no industry can work with efficiency and accuracy. There is an increasing demand for IT in every industry whether it may be health, education, manufacturing or finance.
Bionic arms, artificial life, and the ability to trace human history are just a few examples of the revolutionary advancements that computer science has made possible. The use of technology has also set a revolution in all sectors ranging from production to service providing industries in Nepal. IT can be main factor in increasing productivity in public administration, communication infrastructure, industry and agriculture. With rise of technology, it has impacted on career development in tech sector in Nepal. Thus, pursuing BIT Course in Nepal can open the door to various career opportunities across various industries. BSc Computer Science is one such degree through which you can kick-start your career in this field. This blog will provide an overview of the BSc Computer Science subjects and the specialization under which they are offered.
BIT Course in Nepal
BIT also termed as BSc (Hons) Computer science is an undergraduate program based on computer application, computational service courses and subjects. Computer science degrees are concerned with the theoretical foundations of information and computation, taking a scientific and practical approach to it and its applications.
Herald College, BIT College in Kathmandu provides a 3-year Undergraduate BIT Course in Nepal. Any student that enrolls in this program will have to study the course in 3-year module which is described on this blog.
During these years, students gain academic knowledge as well as practical experience. As Herald College Kathmandu adopts unique international teaching approach i.e., Lecture, Tutorial and Workshop. Various events are held to improvise and reflect on multiple aspects of IT. Recurrently, there is an event for IT where students will create, learn, experiment, or showcase their projects. Events like Vision Quest (AI), embedded system project showcase, and so on are events that were held in Herald College Kathmandu. Aside from that, students will learn computer networking, operating systems, AI, Big Data, and Cloud Computing.
BIT Course syllabus
This course will develop and enhance your skill in programming, database, computer system engineering with digital media and networks. The BIT Course in Nepal is divided into 3-year module which is briefly described below.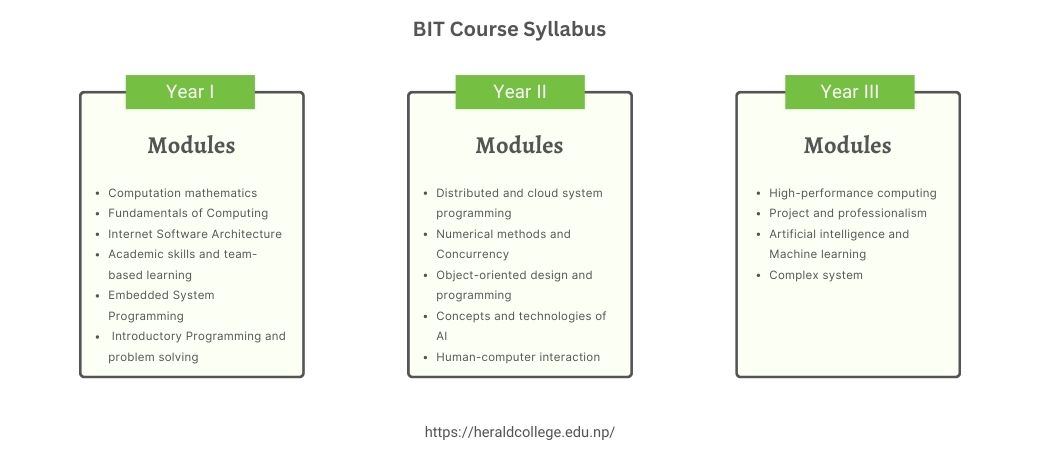 Year I
This module will teach you fundamental concepts in computational mathematics as well as a specific way of thinking. Mathematics and computer programming both foster precision thinking, which is required for problem-solving that requires exact solutions. The module also aims to improve your computer programming skills. You will learn to reason mathematically and the practical skill of programming in Python, a popular programming language used commercially for data processing.
The modules in the first year are:
● Computation mathematics
● Fundamentals of Computing
● Internet Software Architecture
● Academic skills and team-based learning
● Embedded System Programming
● Introductory Programming and problem solving
Year II
This module aims to integrate the subject material studied in other levels 4 and 5 modules and provide students with teamwork experience in developing a software or hardware artefact. Students will learn to coordinate and manage projects in groups.
The modules in the second year are:
● Distributed and cloud system programming
● Numerical methods and Concurrency
● Object-oriented design and programming
● Concepts and technologies of AI
● Human-computer interaction
Year III
This module builds on the High-Performance Computing and Database modules to provide understanding and knowledge of the fundamental Big Data concepts, theories, and practices. This will include Distributed Systems and the most recent advances and techniques in big data processing and management.
The modules in the third year are:
● High-performance computing
● Project and professionalism
● Artificial intelligence and Machine learning
● Complex system
BIT Course admission process:
Entry Requirements:
The BIT Course caters equally to those with a limited IT background. Students must meet minimum requirements to be eligible to study with us. The entry requirements for the BIT degree course are described below:
Academic Level
Completion of NEB +2 Qualification with an aggregate ≥ 55% or 2.2/4
SEE Mathematics Marks ≥ 50% or Grade ≥ C+
English Proficiency
English NEB XII marks ≥ 50% or Grade ≥ C+ or GPA ≥ 2.4/4
For IGCSE A-levels, pass in General Paper or English with Grade E above at A or AS Levels
For IGCSE A-levels, 3 'A' Level Passes with minimum grades D and above
Students not meeting the criteria mentioned above for English can demonstrate their English proficiency with any one of the following internationally recognized English Tests:
IELTS Overall Score 6 with a minimum of 5.5 in each component
Pearson Test of English (PTE) Aggregate Score of 54 with a minimum of 51 in each skill
TOEFL Aggregate Score of 79 with a minimum of 19 in each skill
Career opportunities after BIT Course in Nepal:
Students who earn BIT Course degree in Nepal will have highly sought-after skills in web development, database design, networking, systems modelling, and computer security. As a result, they are qualified for jobs as network architects and technicians, web and database developers, and software developers and engineers after completing the course. Graduates are also encouraged to take advantage of TBC placement opportunities and to be fully prepared to launch their own IT start-up businesses.
Some of the few career paths after obtaining a degree are:
● AI Engineer
● Machine Learning Expert
● Embedded Systems Developer
● Software Engineer
● Mobile App/Web Developer
● Complex Systems Engineer
● Systems Analyst
● Software Architect