February 09, 2023
International MBA Course in Nepal Spring Intake Admission 2023!
International MBA Course in Nepal Spring Intake Admission 2023!
The admission for Spring Intake 2023 for the International MBA Course in Nepal in direct partnership with the world-renowned University of Wolverhampton, UK. Through this exclusive curriculum, students have the chance to obtain a top-notch International MBA Course degree in Nepal along with the Tribhuvan University equivalency.
One of the key benefits of the IMBA program is the rigorous academic training it provides. With its strong focus on both theoretical and practical knowledge, students can be sure that they are getting the best education possible. The combination of theoretical knowledge and practical skills provides students with a solid foundation in global leadership, which can be applied to a wide range of industries and business scenarios.
In addition to the academic rigors, the International MBA Course in Nepal provides students with an unparalleled network of business professionals from around the world. This provides students with the opportunity to learn from experienced professionals and to make valuable connections that can help further their careers. Whether you are looking to start your own business, or want to move up the corporate ladder, the IMBA course has everything you need to reach your goals.
International MBA Course structure
The International MBA Course in Nepal is designed to provide students with the knowledge and abilities they need to be successful in the business world. The courses are filled with research and analytical thinking, giving students plenty of chances to hone their critical thinking skills.
Real-world business settings need knowledge of topics like Financial Decision Making and Strategic Global Marketing, which are covered in the core IMBA courses where students get knowledge of the following topics:
● The fundamental ideas and tactics behind both global marketing and financial decision-making.
● Develop key skills in formulating and managing basic research, problem-solving, organising and managing projects.
In addition to these core modules, the IMBA course also features a year-long module that provides students with a wide range of opportunities that are given down below:
● In-depth, hands-on training in a range of business-related topics.
● Better comprehension of business procedures as well as the abilities and knowledge necessary to succeed in the quick-paced and constantly shifting business climate of today.
For detailed information regarding the modules and the course offerings, please visit the given link below:
https://heraldcollege.edu.np/international-master-of-business-administration
Are you ready to take your career to the next level?
The LTW (Lecture Tutorial and Workshop) approach encourages students to think creatively and actively participate in their education. Although the lectures and tutorials lay a strong basis for knowledge, the workshop part is what really distinguishes this curriculum.
The workshop gives students the chance to organize and carry out a real-world event while using their newly acquired expertise. They are accountable for everything from branding and marketing to extending invitations to prominent individuals in the sector.
This hands-on approach to education gives students a deep understanding of the complexities involved in event planning and provides them with valuable real-world experience. Not only will students learn about the nuts and bolts of event management, but they will also have the opportunity to network with industry leaders and build their professional network.
What is the Scope of an MBA in Nepal?
The scope of an MBA in Nepal is vast and varied, offering career paths in Entrepreneurship, Marketing, HR Management, and Leadership, allowing students to tailor their education and carve out a path in their chosen field.
Scholarship programme for International MBA Course
The AAA Scholarship is a privilege that will cover the entire college semester fees for the first academic year of the students. These elite recipients will be chosen based on their performance in three crucial categories: Academics (A), Attendance (A) and Attitude (A).
To be considered for this opportunity, applicants must meet certain eligibility criteria.
● Good academic standing.
● At least 50% attendance in each module.
● Timely payment of all the financial dues.
● Clean disciplinary record and exemplary behavior.
Past events highlight
Some of the prior events that IMBA students at Herald College held are listed below.
Event Title: Talking Numbers - Indicators of performance evaluation
Guest speakers: CA Sanjog Koirala (Entrepreneur) and CA Prabiin Kharel (Audit Manager at Chaudhary Group)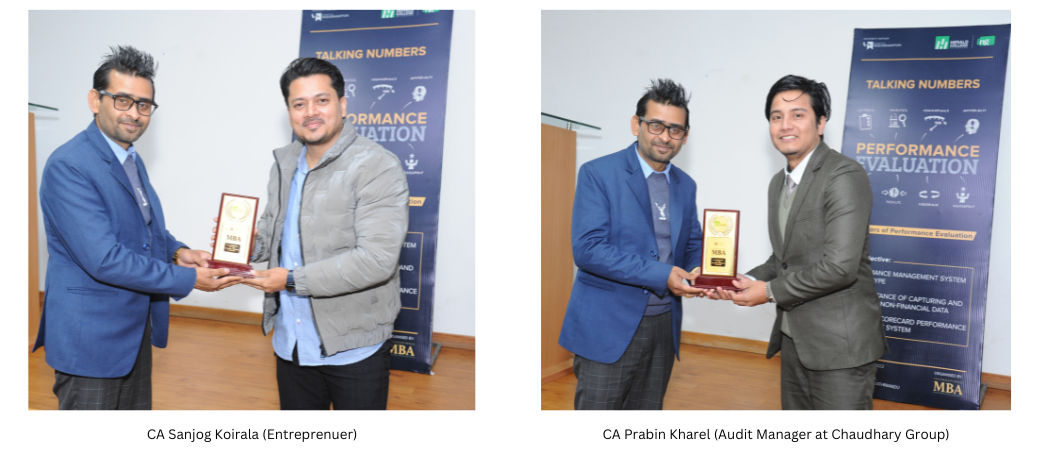 Event Title: Budgeting 101
Guest speakers: Mr Avish Acharya (Finance and Treasury Manager at Laxmi Bank) and Mr Gopal Dixit, (CFO at BATAS Group)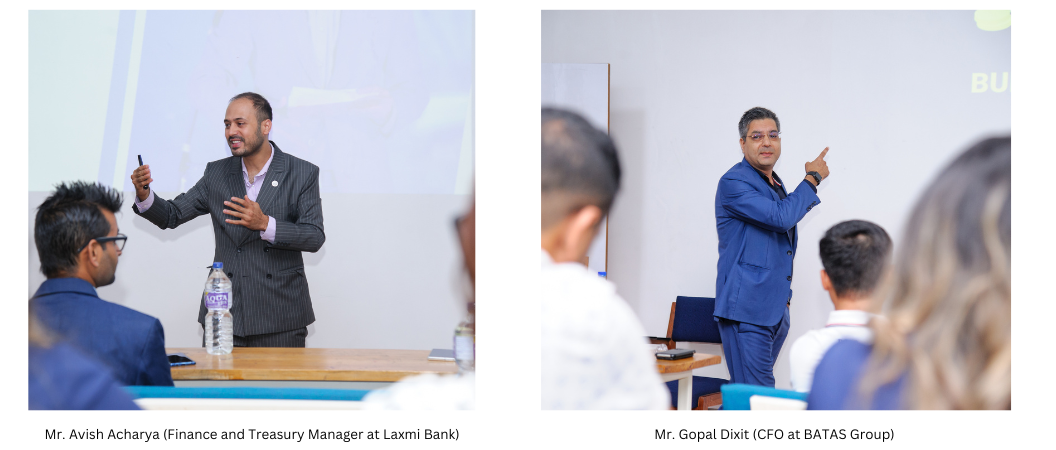 Event Title: Herald Chit Fund - One Session - Knowledge Double
Guest speakers: CA Bhava Nath Dahal (Senior Government Financial Tax Specialist), Mr Sachindra Dhungana (General Manager, NIBL Ace Capital Limited) and Mr Dhirendra Khushwaha (Finance and Marketing Head at Segway)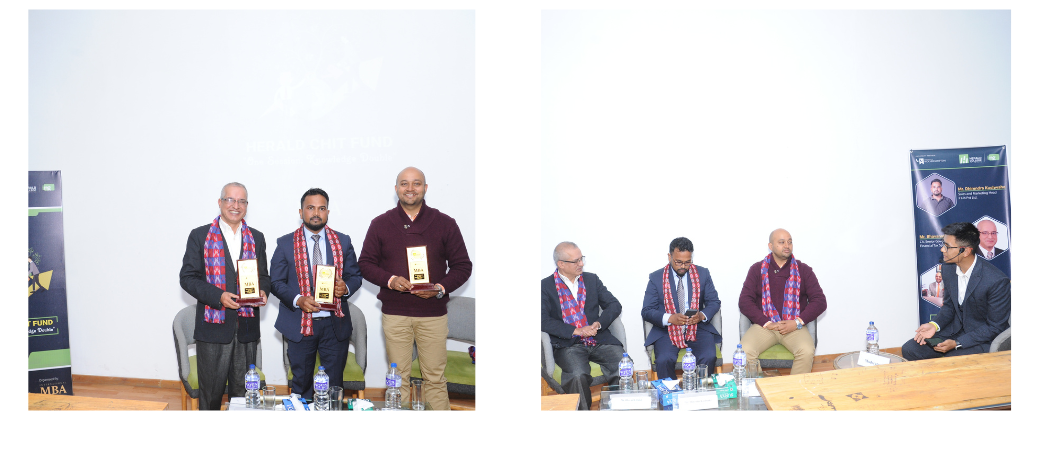 Event Title: Capital Investment Decisions
Guest speakers: Mr. Bikash Bhandari (Head-Investment Banking, Nabil Investment Banking Limited)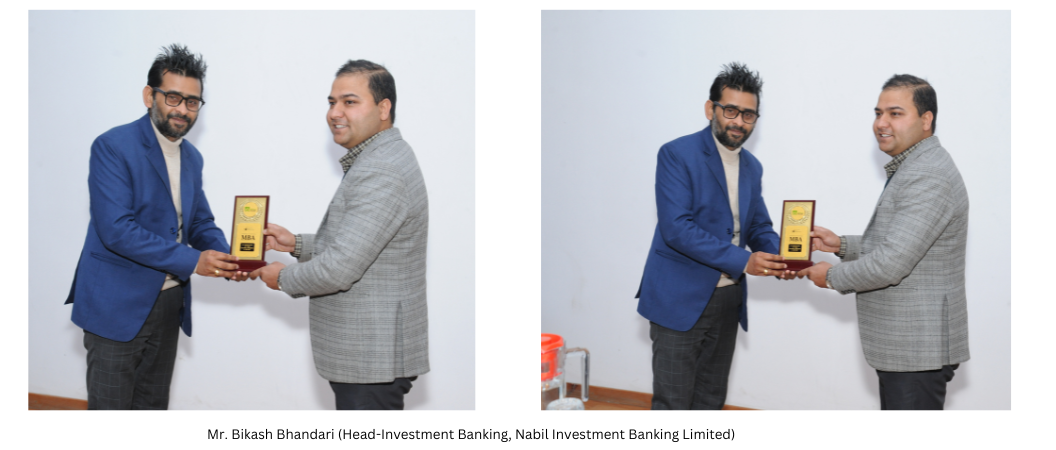 Event Title: INSIGHTS BIZ
Guest speakers: CA. Sushil Silwal and Mr. Datta Singh Karki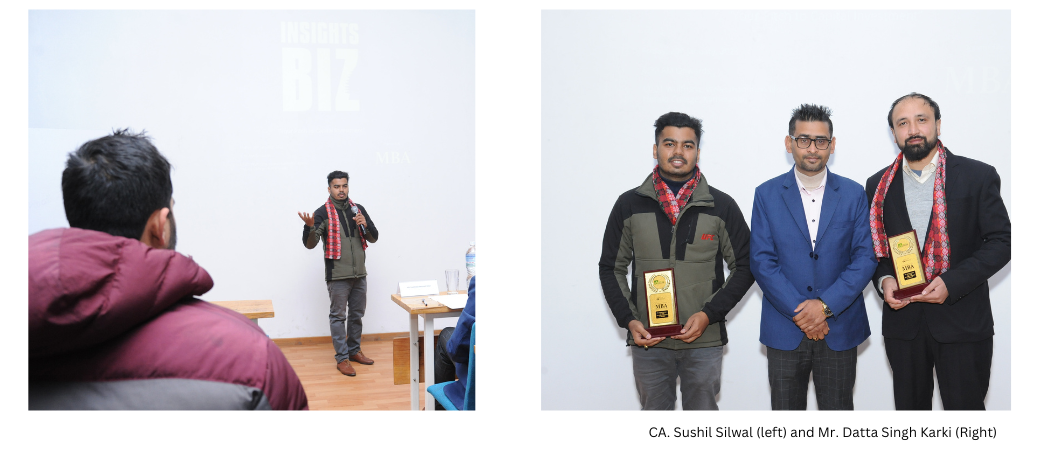 Event Title: CAPITAL QUEST
Guest Speakers: CA. Rahul Rathi and Mr. Gajendra Pd. Shah (IMBA Course Leader at Herald College Kathmandu)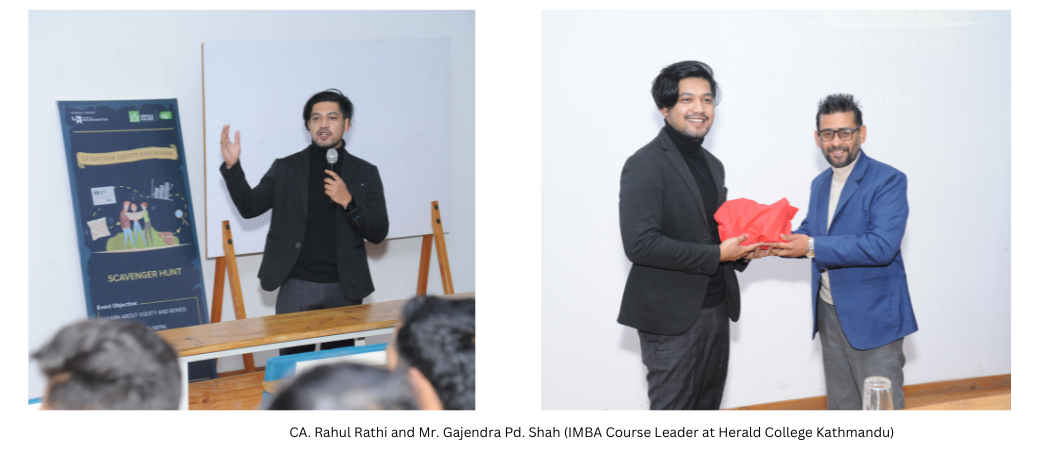 Eligibility for International MBA Course in Nepal
A second-class first division- or second-class second division and a third-class undergraduate honors

degree from a UK university

or Nepalese equivalent Bachelor's Degree in any stream.

A Letter of Reference from a tutor who has supervised the Applicant's Undergraduate Studies and/or Employer.
Applications are also welcome from individuals who do not possess the above qualifications but who have significant management experience and are able to demonstrate previous non-certificated learning equivalent to the above. In such cases, admission to the programme will be based on an evaluation of the applicant's ability to continue to benefit from and achieve the award.
For more information regarding the general entry requirements of IMBA at Herald, please visit the link below:

https://heraldcollege.edu.np/international-master-of-business-administration#entry-requirements
International MBA Course fees structures
We highly encourage you to visit our college campus to get all the information regarding our fees structure. Our team is dedicated to making education accessible and affordable for everyone.
However, if visiting us in person is beyond your convenience, simply drop your contact details in the link, and our admission department will reach out to you to answer all your queries and concerns regarding the fee structure. We believe that every student deserves a chance to receive a quality education and we are here to make it happen.
Final Verdict
The International MBA Course at Herald College is an investment in your future that you won't regret. With its combination of world-class education, practical skills, and unparalleled networking opportunities, this program is the perfect choice for anyone looking to take their career to the next level.
If you're looking for an education that provides a balance of theory and practice and prepares you for success in the real world, IMBA at Herald is the ideal choice.
Don't miss your chance to be a part of this exciting program – apply for the Spring Intake 2023 today!