March 12, 2023
Student's guide to Business management degree in Nepal
The Global Economic Prospects report has forecast Nepal's economy to grow by 5.1% in year 2022-23. Businesses in Nepal are also widening their perspectives to compete in today's global economy. Starting a business or entering a business company as marketing manager or financial advisor, a business management degree can provide you the basics of business world. Business management is a versatile degree, you can pursue to fit for many roles that requires expertise in cross-cultural strategy development such as sales, commerce, advertising and finance. Subsequently, a business management degree in Nepal provides understanding the governance, strategy, management, relationship with governments, and role of multinational enterprises (MNEs) in the globalization and localization of economic activity.
Increased cross-border 'connectivity' among organizations, markets, people, and data is one of the most apparent results of globalization. Business management degree covers a wide range of material including but not limited to emerging markets, globalization, the significance of trust, and the examination of international business settings. It is the chosen major for persons in corporate, government, community/NGO, and small company management positions. A business management degree is a comprehensive 4-year program that equips students with a diverse range of essential skills, including marketing, finance, accounting, and operations management.
Course structure for Business Management degree in Nepal
For students who want to pursue career in business management, this degree can be great choice as:
The course equips students with a wide variety of information and abilities that are crucial for managing organizations that operate internationally.

Students can join the job market with a competitive advantage and pursue successful careers in international business management by comprehending the complexity of cross-border commerce and investment, cultural differences, and global business practices.
The following courses are included in business management degree in the respective year:
Year 1
● 21st Century Management
● Preparing for Success at University
● Principle of Business
● Project Based Learning
Year 2
● The Responsible Business
● The Sustainable Business
● The Innovative Business
● The Digital Business
Year 3
● Contemporary Issues in International Business
● The International HR Professional
● Operation and Project Planning
● Managing Finance and Accounts
Year 4
● The Strategic Business
● Global Context for Multinational Enterprises
● The Professional Project
● The Marketing Consultant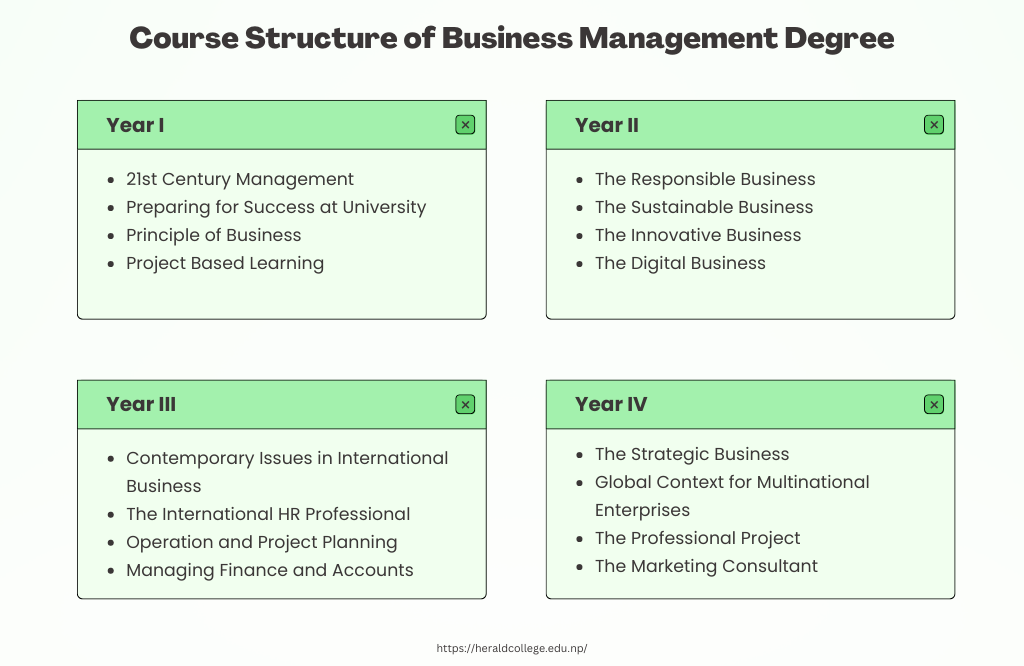 Eligibility for Business Management degree in Nepal
Academic Level
● Completion of NEB +2 Qualification with an aggregate ≥ 45% or CGPA ≥ 1.8/4
● For IGCSE A-levels, 3 'A' Level Passes with minimum grades E and above
English Proficiency
● English NEB XII marks ≥ 50% or Grade ≥ C+ or GPA ≥ 2.4/4
● For IGCSE A-levels, Pass in General Paper or English with Grade E above at A or AS Levels
Applicants not meeting the aforementioned criteria for English can demonstrate their English proficiency with any one of the following internationally recognised English Tests:
● IELTS Overall Score 6 with a minimum of 5.5 in each component
● Pearson Test of English (PTE) Aggregate Score of 54 with a minimum of 51 in each skill
● TOEFL Aggregate Score of 79 with a minimum of 19 in each skill
All Other equivalent qualifications are evaluated on a case-by-case basis by the University of Wolverhampton.
Applicants must be at least 17 years of age at the time of application. Applicants above 21 years of age and/or gaps after High School have to go through special arrangements and are subject to acceptance by the University of Wolverhampton.
What can you do with a Business Management degree in Nepal?
Getting a degree and having a knowledge of International Businesses on a smaller scale might take a cue from the strategies used by multinational corporations and apply those ideas to their own International Business Management strategies to help stimulate growth in domestic and international markets.
You can be a specialist in many areas if you have knowledge and skills along with degrees in International Business. Here are some of the scopes that you can be among multiple:
● International Business Analyst
● Export sales representative
● Brand manager
● International business development manager
● Financial controller
● An international sales manager
● Export sales executive
● International management consultant
● Procurement manager
In a world where global links are developing, the International Business degree has become the foundation of economic success and prosperity. This course examines the economic, political, cultural, and linguistic environment in which multinational corporations operate. This course employs an independent investigation approach to investigate country-level commercial ties. It possesses and addresses fundamental questions about society, the global economy, cultures, systems, and dialects.
Watch more about

IMBA events

that helped students to learn about business process, investment, research and guest lectures

.
Business management degree fee structure in Nepal
To learn more about our fee structure, we highly encourage you to visit our college campus. Our team is dedicated to making education accessible and affordable for everyone.
If, however, you are unable to visit us in person, please drop your contact information in the link, and a member of our admissions department will get in touch with you to address any of your questions and worries about the pricing structure. Every kid should have the opportunity to obtain a top-notch education, and we are here to make that happen.
Herald College Kathmandu provides the core International Business management degree in Nepal of 4 years in direct partnership with the University of Wolverhampton. This course examines the ever-changing global economy produced by industry professionals, will teach you the foundations of running a business in today's global market and introduce you to cutting-edge issues.
The information and abilities gained from this course will be crucial in helping students accomplish the goals listed below.
● Face students in a dynamic global environment.
● To compete in the international market.
To explore how local companies can adopt entrepreneurial and innovative manners